Churcher's students restore path on the Heath
Churcher's 3rd year students helped Friends of Petersfield Heath volunteers shift 20 tonnes of Cotswold grit to finish a new widened  pathway along the Sussex Road side of the heath.
Headed by staff member Tony Ostersen, 31 students gave their time as part of Churcher's College Community Action Service, which has to date funded path improvements on the heath to the tune of £6,000 over a period of three years, with this year's work an additional £2,500.
The path had become seriously eroded leaving roots of trees dangerously exposed. The low-lying hollows had been full of mud or water for much of the year.
Restoration work began on June 22 and was finished before the path was opened on June 29. Despite appalling June wind and rain, newly appointed Town Mayor, Cllr James Deane, congratulated the team as he cut the ribbon to announce the path officially open. He thanked Friends of Petersfield Heath for taking the initiative to get the project underway. He said special thanks were due to David Burstall, who masterminded both groups of volunteers and ordered all the materials.
The Mayor added, "The more adverse the conditions the more you can consider yourselves justifiably proud and rewarded. I want to thank the pupils and staff involved and also Simon Williams, Headmaster of Churcher's College, for allowing his pupils to contribute so valuably to the community. As ever The Friends of Petersfield Heath have come up trumps".
The restored path will make pushchair and wheelchair access much easier and will reduce potential accidents.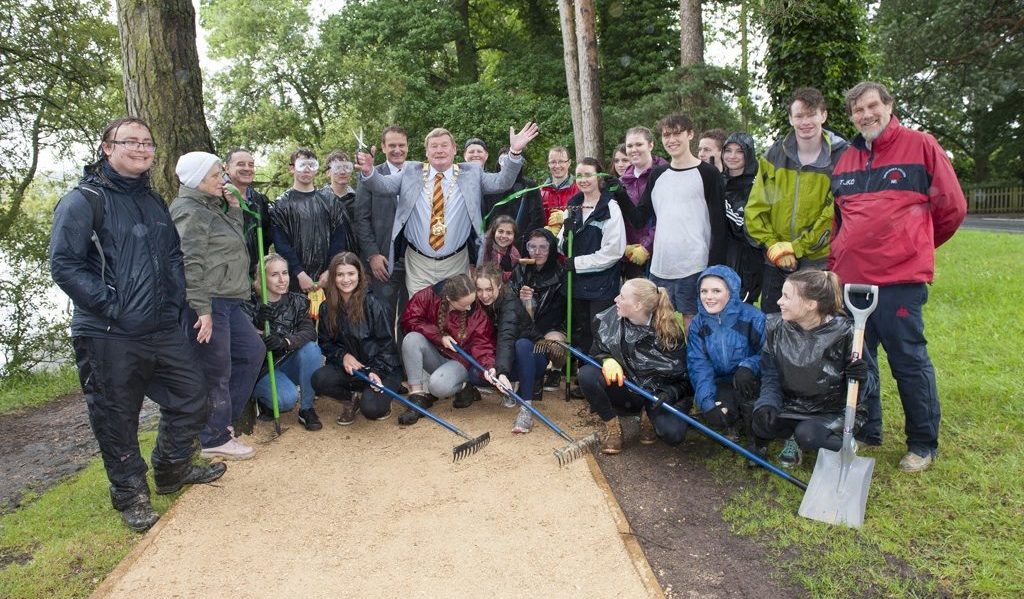 With thanks to Chris Pearsall Photography for the images.